Benefits of Upward Facing Dog
Upward Facing Dog is the eighth yoga posture in a very popular yoga sequence, called Sun Salutation.
This Yoga posture greatly stretches the spine, chest, shoulders and abdomen. When practiced regularly, it also has the following benefits: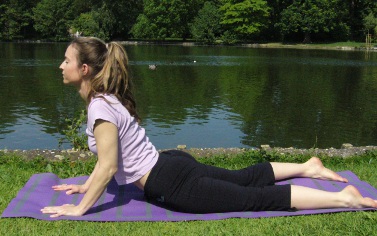 How to Practice Upward Facing Dog
1) Start in Chaturanga.
2) Inhale, roll your toes over, and push yourself from the floor. If this is too difficult, first lower your knees to the ground/floor and then slowly lift.
3) Straighten your arms and and lift your torso up, expanding your chest. If your lower back is weaker, you can keep your elbows slightly bent.
4) Your shoulders should be directly over your wrists and arms are extended. Draw your shoulders away from your ears (don't sag your shoulders).
5) Keep your thighs and arms firm.
6) Look straight ahead, or if you neck allow slightly upward.


Contraindications
Don't practice this yoga posture if you have wrist problems, such as a Carpal tunnel syndrome or back injury. If you are menstruating or pregnant, this yoga pose is also not recommended.


Return from Upward Facing Dog to Yoga Poses

Move from Upward Facing Dog to the next Yoga Pose in Sun Salutation Downward Facing Dog

Return from Upward Facing Dog to Ayurveda Holistic Medicine HomePage