Most Amazing Detox Cleanse
Based on Ayurveda Panchakarma
Join us for the ayurvedic detox cleanse in the beautiful Czech Republic
Leave feeling lighter, younger and happier.



Is your back hurting? Do you have stiff joints?
Are you overweight? Do you feel tired and heavy?
Do you suffer from depression?
Do you want to feel a few years younger?
Or do you just want to get rid of accumulated toxins and prevent later complications?

Now you have the perfect opportunity to improve your health with amazing ayurvedic cleanse based on Ayurveda Panchakarma. Leave your everyday problems behind and immerse yourself in an environment of relaxation, health and balance.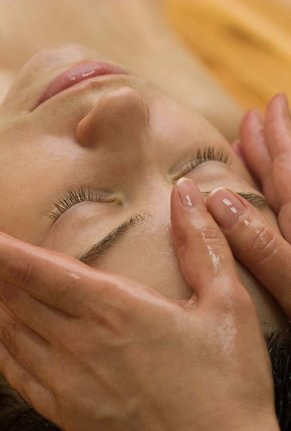 What can you look forward to during this detox cleanse?
• At the beginning of the ayurvedic cleanse, you will receive a complete ayurveda consultation, which will determine the individual process of your detox cleanse

• During your stay, we will monitor your daily well-being and adjust the ayurvedic cleanse as needed

• Every morning ayurveda yoga poses, meditation and pranayama (breathing exercises) will gently stretch your body and calm your mind

• You will enjoy specially prepared, easily digestible vegetarian food, made with love in the Ayurvedic tradition

• Shirodhara and ayurvedic full body oil massage will bring deep relaxation and restful sleep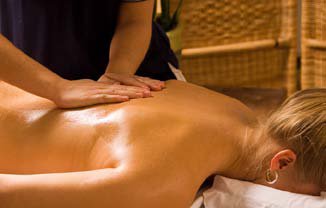 • Individual oil treatment fine-tuned to your ayurveda body types will further balance your body & mind

• Evening lecture, which will reveal the secrets of Ayurveda holistic medicine, will help you maintain the benefits of your detox cleanse even after you return home

• At the end of the stay, we will have our final ayurveda consultation, where you will receive recommendations on lifestyle, diet and herbal preparations for the next 2 months



How does Ayurveda Panchakarma work?
According to Ayurveda, oils have similar consistency as toxins. You will consume ghee (clarified butter) during your ayurvedic detox cleanse, as well as receive many treatments with a large amount of oil. The toxins get literally 'glued' to the oil and ghee, and are then eliminated from the system. After cleansing, you will feel rejuvenated, clear and calm in body and mind.

Ayurveda's 5,000 year old wisdom gives us great insight into purification and healing. Purification is the process of eliminating imbalances from the past, which cause the current unbalanced condition. One of the basic laws of Ayurveda holistic medicine is that when one or another of the forces of nature becomes disturbed through excess or deficiency, disease is established. We must reverse this process -- re-establish the balance of the natural forces -- to regain our health. This technique is called Panchakarma and is a process of eliminating toxins from the body through the digestive tract. Ayurveda Panchakarma not only accelerates restoration of physical and mental health, but also makes the material foundation for happiness. There are many purification systems in the world, but Ayurveda Panchakarma is one of the most gentle, effective, and yet efficient methods of detoxification.



What is Shirodhara?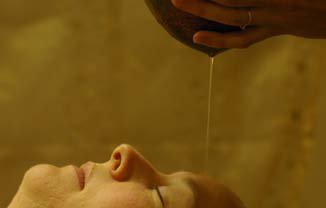 A thin stream of warm oil gently flows over the third eye area (space between the eyebrows) and forehead. This procedure wonderfully calms your nervous system and brings deep relaxation. Shirodhara also helps to eliminate old emotions that so often contribute to the chronic disease. An excellent side effect of Shirodhara is an elimination of wrinkles.





Detox Cleanse Dates and Prices
| | | | |
| --- | --- | --- | --- |
| March 22-29,2013 | 14400 CZK | $760 | 580€ |
| March 29-April 7, 2013 | 16400 CZK | $866 | 660€ |
| April 18-25, 2013 | 14400 CZK | $760 | 580€ |
| April 25-28, 2013 | 8900 CZK | $470 | 360€ |
| May 2-5, 2013 | 8900 CZK | $470 | 360€ |
Detox cleanse is available for all people speaking
English, German or Czech
.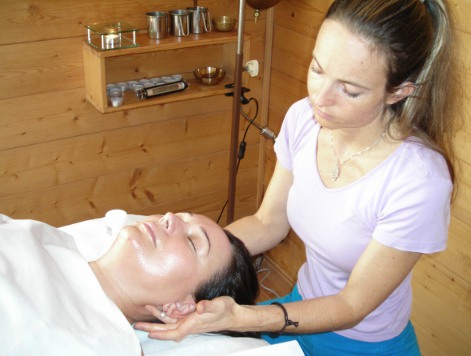 Wonderful opportunity to give yourself the present of health.

Spoil yourself.
Relax and let others take care of you.
Feel healthy, balanced, and happy.




---
Sign up for the detox cleanse of your lifetime soon! Space is limited, only 10 participants on each ayurvedic detox.
---
Return from Ayurvedic Detox Cleanse to Ayurveda Holistic Medicine HomePage