Health Benefits of Oil Nose Drops, Nasya
Oil Nose Drops not only increase your immunity and uplift your mood, but also heal many problems from the shoulders up. They oleate your nasal passages and block the bacteria from entering and causing infection.
Nasya is a great treatment for any pain or discomfort in the shoulders, neck, face and head (e.g. sore neck/shoulders, headaches, allergies, congestion, loss of smell, sneezing, sinusitis). It helps to remove fatigue, tiredness, and weakness from the body. Oil Nose Drops are also very effective for insomnia (see Tips on Sleep), sunken & puffy eyes, and dark circles under the eyes.
Also, after Nasya, the air that you inhale has more moisture and Prana (the life force). Many of my Ayurveda teachers claim Nasya to be the best Ayurveda treatment and they recommend it for almost anything.


How to Make and Apply Nasya
You can purchase many different kinds of Nasya, but you can also make your own with plain sesame oil or ghee.
If you decide for the sesame oil, simply put plain, unroasted, if possible organic, sesame oil in a small glass jar with a dropper.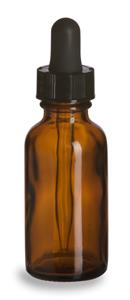 Nasya takes just a couple of minutes and you feel the results immediately. My mom calls it, the "make me happy quick" treatment.
The proper way to insert the Oil Nose Drops, is to first warm the oil up. Simply put the glass jar in a hot water bath for a couple of minutes. Then insert 2-3 drops in each nostril.
What works also well, and is much faster, is to put a drop of the oil on your pinky fingers and then rub them inside your nostrils (one at a time please ;-).
When you insert the oil nose drops in your nose, try to breathe deeply for a couple of minutes and you will notice that your mind is also calmer and happier. No wonder that Nasya is also a great treatment for blue mood.


When to Do Nasya
The best time to insert the Oil Nose Drops is in the morning before breakfast and in the evening before bed. Nasya is also a great way to start your meditation, Yoga Poses, or Alternate Nostril Breathing.
Happy breathing!
Return from Oil Nose Drops to Natural Health Remedies
Return from Oil Nose Drops to Ayurveda Holistic Medicine HomePage