A couple of days ago I watched a video that really touched me. It made me realize, like many times before, that I take waaaay too many things for granted.

How is it that we get so busy with our every day lives, forget to be grateful for what we have and just run unconsciously?

We get lost because of the incredible speed that we are running at – physically, mentally, and emotionally. That's why it is crucial to quiet your mind every day, to sit and watch your breath, to reconnect with your inner being. The more regularly you are able to slow down, the more you will be able to enjoy every day and experience a true happiness. Not a quick happiness caused by a sudden excitement, from a new toy that you bought, but a real deep stable happiness.

Try to sit with yourself at least 10 minutes each day. You can start with just 5 minutes and build up to 15-20 minutes twice a day. If you are starting incorporating a quiet time into your daily routine, be gentle with yourself. It might be incredibly difficult at first and your mind might be going crazy. If this is the case, have a paper and pen ready and when you think of something 'super important' during your quiet time, write it down. The mind WILL quiet down with time. Promise.

The more quiet your mind is, the more grateful, thankful, happy you will be and less often you will need reminders such as this one from Emanuel Kelly, Australia. His strength, his spirit, and his courage are incredible. Thank you, Emanuel, for reminding us of the important things in life. Thank you for slowing us down. Thank you for your Spirit.
Amazing Ischia
A couple of weeks ago, we came back from an amazing island of Ischia, where we daily stretched our bodies with ayurvedic yoga and also picked up some ayurvedic tips on staying healthy & happy. The island is even more beautiful than I have thought. It has incredible energy and vitality. The volcanic activity is very visible in the hundreds of hot springs that this island offers. My favorite was Sorgeto,
where the hot springs come directly into the sea. Just a couple of pictures to get you inspired for next year.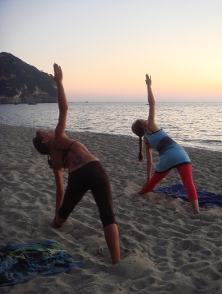 Facebook
And if you have not done so yet, don't forget to "like" us at Ayurveda Holistic Medicine Facebook

You will receive regular ayurvedic tips, quick recipes, inspirational quotes & videos and much much more. Check out our Facebook page now!


What is New @ Ayurveda Holistic Medicine?
Ayurveda Yoga DVD Working on the final touches of the Ayurveda Yoga DVD, which should be available in the next couple of months. Keep your eyes open for the first release, which will be in Czech. English and German versions will follow.

Ayurvedic Consultations are again available in the wonderful Ayurmedic Center. Please contact them for dates & times available in November 2011.



Ayurvedic Workshops*
Ayurveda, Yoga and Our Mind, Dum Jogy, Praha, Czech Republic, November 26.-27., 2011
Still a couple of places available for this wonderful workshop, where you are encourage to look at your mind, play with it and realize the many ways you can use it for your own benefit. We will get to live the saying: "You are NOT your mind"
Rejuvenate Your Body & Mind with Ayurveda, Dum Jogy, Praha, Czech Republic, February 4.-5., 2012
Very hands-on workshop, where you will learn how to apply the ancient wisdom of Ayurveda in your everyday modern life. We will practice self-oil massage, ayurvedic yoga, Alternate Nostril Breathing, and Meditation. We will talk about Healthy Eating Habits, Daily Routines and much much more. You will leave relaxed, rejuvenated and full of energy for your life.
Ayurvedic Diet and Detoxification, Dum Jogy, Praha, Czech Republic, February 18.-19., 2012 The basics of healthy Ayurvedic diet, spices, and recipes. You will learn how to use these simple secrets in your everyday life. Ayurvedic detoxification (Panchakarma) helps to purify your body & mind.
Ayurveda, Yoga and Our Mind, Dum Jogy, Praha, Czech Republic, February 25.-26., 2012
If your mind is something that fascinates you like it fascinates me, this is a wonderful workshop for you. We will learn how Ayurveda and Yoga view our mind, but mostly play with our mind and realize that we are not our minds!
For more information about all of these workshops, please visit Dum Jogy
*Workshops are in Czech. If you are interested in having ayurvedic workshops in your area, please contact me. We can offer the workshops in English and Czech.

Detox programs Save The Date!
We are also offering three wonderful opportunities for a complete ayurvedic detox (Pancha Karma) in Horni Misecky, Krkonose, Czech Republic in 2012.

Krkonose are Czech mountains full of amazing Prana, life energy, that offer us a quiet place to slow down, detox and rejuvenate. Wake up every morning with Ayurvedic Yoga. Relax during an Ayurvedic Oil Massage. Rejuvenate your mind during Shirodhara and other oil treatments. Enjoy walks in beautiful nature, while receiving ayurvedic detox food prepared with love. Detox. Relax. Rejuvenate.

Detox programs are available for all people speaking Czech, English or German. Contact us for further details.

DATES FOR AYURVEDIC DETOX PROGRAMS SPRING 2012:
16.3.-23.3. 2012 Week long Pancha Karma (6 days of treatments) 29.3.-1.4. 2012 Four days of light detox (3 days of treatments) 20.4.-27.4. 2012 Week long Pancha Karma (6 days of treatments)

Have a colorful happy fall and remember to take some quiet time for yourself every day.
Love,





Comments? Ideas? Feedback? I'd love to hear from you. Just reply to this email and tell me what you think!
If you like this e-zine, please do a friend and me a big favor and "pay it forward." If a friend DID forward this to you and if you like what you read, please subscribe by visiting Holistic Medicine Fans Newsletter
New!

Comments Have your say about what you just read! Leave me a comment in the box below.