Benefits of Upward Salute,
Urdhva Hastasana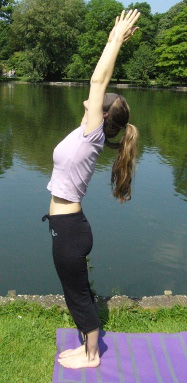 Upward Salute is the second yoga posture in a very popular yoga sequence, Sun Salutation.
Urdhva Hastasana wonderfully stretches the belly, shoulders, torso and armpits. When practiced regularly, it also has the following benefits:
How to Practice Upward Salute
1) Start in Tadasana yoga posture.
2) With an inhale, move your arms downward from Namaste position and then sweep them out to the sides and up toward the sky/ceiling. You can finish with your arms parallel above your head (palms facing each other) or when your shoulders allow, your palms can be pressed together.
3) Fully extend your elbows and reach up through your fingertips.
4) With your neck still being an extension of your spine, bring your upper chest towards the sky/ceiling and bend your back slightly (the bend comes from your middle/upper back, not your neck). Be careful not to over-arch your lower back or compress your neck!
5) Stay in this yoga posture for a couple of breaths.


Contraindications
You should not perform Urdhva Hastasana if you have back, neck or shoulder problems. If you are just starting out, be careful with the back-bend in step #4 above. Always use your breath as your guide. If you are straining your breath (or cannot breathe) you are going too far.


---
Uplift your heart with Urdhva Hastasana.
---
Return from Upward Salute to Yoga Poses

Move from Upward Salute to the next Yoga Pose in Sun Salutation Uttanasana

Return from Upward Salute to Ayurveda Holistic Medicine HomePage