Benefits of Plank Position
Plank Position is the sixth yoga posture in a very popular yoga sequence, called Sun Salutation.
Plank Pose greatly strengthens the arms, wrists and spine, and tones the abdominal muscles.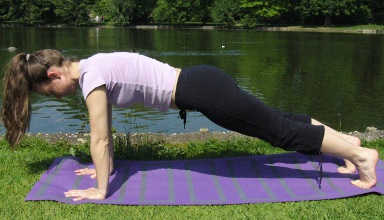 How to Practice Plank Position
1) Start in Downward Facing Dog.
2) Inhale and lower your sitting bones until your torso, buttocks and legs are all in one line, arms perpendicular to the floor.
3) Your shoulders should be directly over your wrists and arms are extended.
4) Look straight down at the floor (don't lift your head) so your neck is a natural extension of your spine.


Contraindications
Don't practice Plank Pose if you have wrist problems, such as a Carpal tunnel syndrome or if you feel any pain in your wrists when practicing this yoga posture.


Return from Plank Position to Yoga Poses

Move from Plank Position to the next Yoga Pose in Sun Salutation Chaturanga Dandasana

Return from Plank Position to Ayurveda Holistic Medicine HomePage